Rules and regulations of HSBC to successfully process single and batch payments

Supported HSBC banks:
HSBC Business
HSBC Net
HSBC Innovation
HSBC Corporate
Please keep the following information in mind when using the accounts payable feature. If you are uncertain on some of the following information, you will need to reach out to your bank. This is
only

applicable to HSBC Business account owners.


Daily transaction amount limit

HSBC have a daily payment limit of £25,000 via online banking and £10,000 via mobile app.

This can be increased to a maximum of £100,000 via online with account manager approval

Bank account type


Please note that banks are not able to support multi-authentication for bulk pay runs using open banking.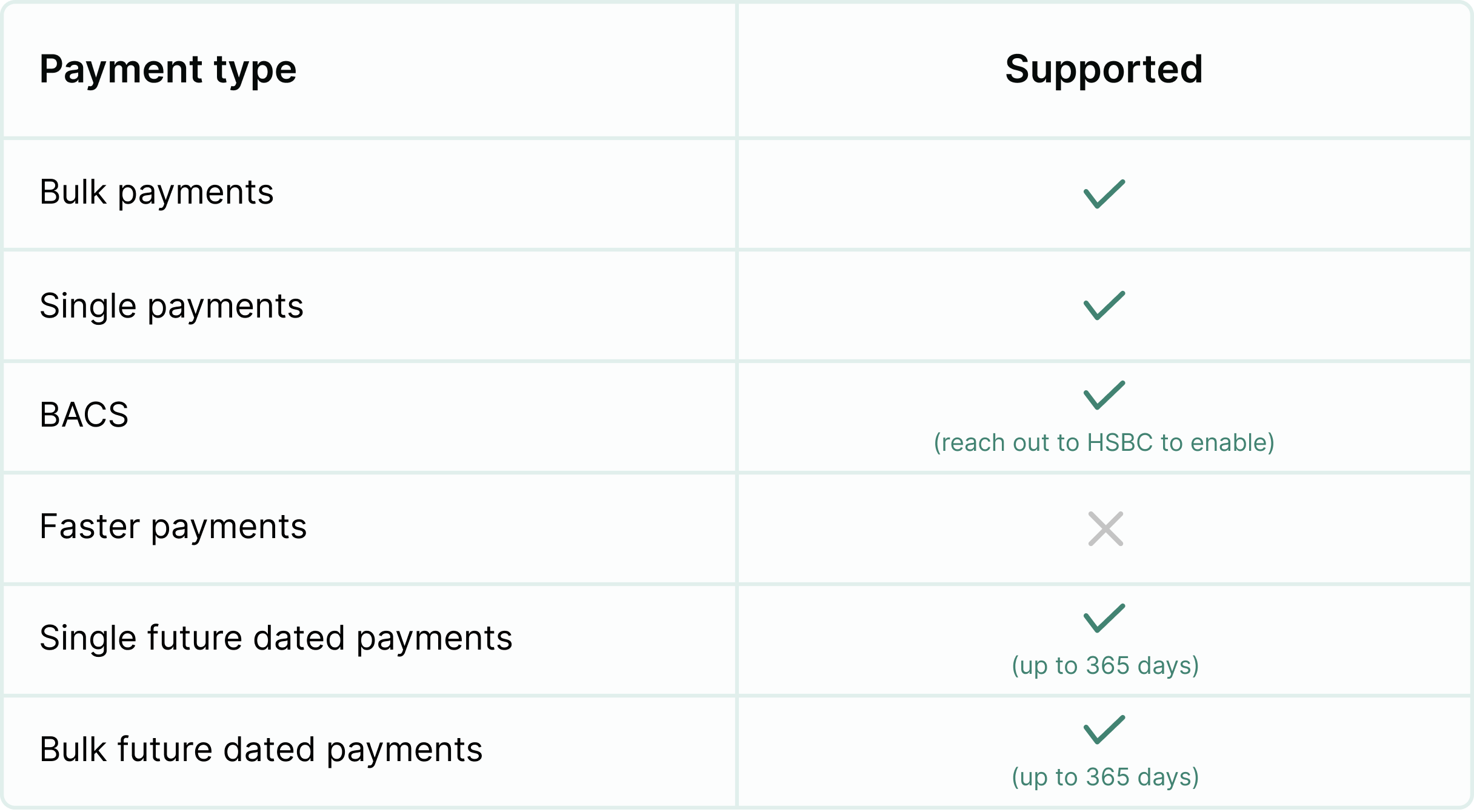 Additional Information:
Requires BACS payments to be enabled for the account you wish to use for batch payments

Click here for steps on how to enable BACS in your HSBC account



HSBC Net, Corporate and Innovation Banking accounts can only process single payments


How to cancel future dated payment:
If you have created a UK Payment that has not yet debited your account.
You have created a BACS Batch Payment that has not entered the payment cycle. The payment enters the payment cycle at various times on Day 1 and debits your account and credits the beneficiary on Day 3. For example, if you create a payment on Monday to credit the beneficiary on Friday, the payment enters the cycle on Wednesday. Therefore you will need to cancel the batch on or before the Tuesday.
Navigate to the Manage payments tab

Select Pending payments ( you can choose to view or cancel a payment)

Click on the payment you want to cancel

Select 'Delete' and your scheduled payment should be cancelled